MidPoint, an identity management & governance platform, has an open code without any proprietary parts. It is available for everybody to download and test before adoption without the need to contact anyone at Evolveum.
We often get asked how many universities are using midPoint, but as you can see, this question was challenging for us to answer. That's why we have initiated a short survey for higher education institutions to find out more.
We would like to thank everyone who filled out the survey, passed it on to their peers and colleagues, and the ones who asked us about midPoint usage in the first place. Now, let's look at the results.
Altogether, 50 responses have been evaluated. We believe there are more than 50 universities that are testing or using midPoint; however, it should be a sufficient sample size to help us understand the commonalities and trends.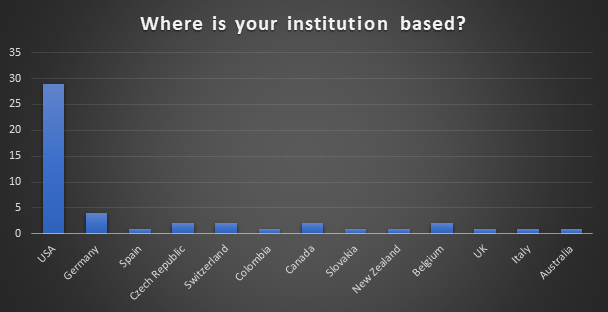 As we can see, more than 50% of the institutions are based in the USA.
The popularity of midPoint is increasing across Europe too. Respondents from Germany, Switzerland, Belgium, the Czech Republic, Italy, Slovakia, the UK, and Spain are testing, deploying, or have midPoint in production.
MidPoint has also expanded its reach to institutions in Canada, Colombia, Australia, and New Zealand.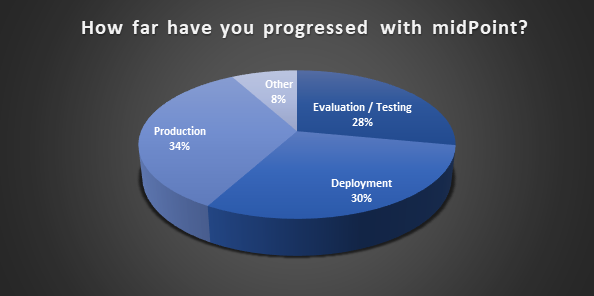 As shown on the pie chart above, 34% of respondents have midPoint in production, 30% are currently deploying it, and 28% are evaluating or testing midPoint. We are happy to see that more and more universities have gone live.
The rest, 8% of respondents, are thinking about starting to evaluate/test midPoint but have not started yet.
As we can see, most universities have from 50,000 – 80,000 active identities (e.g., student, faculty, staff) under their administration. The second biggest group administrates from 5,001 – 15,000 active identities.
In this case, we could say midPoint is a popular IGA tool across all different sizes of universities.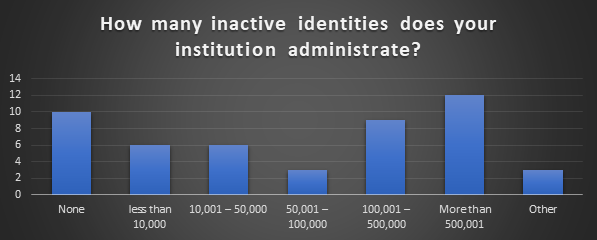 In addition, when asked about inactive identities, 10 survey participants indicated they do not administrate any. We found this quite interesting, and after looking into the data more closely, we could see that all but 2 were based in Europe.
On the other hand, 12 people said their institution is administrating more than 500,001 inactive identities. All but one of these respondents were based in the USA.
We hope the results have helped shed some light on midPoint's usage among higher education institutions globally. We are keeping the survey active, so please feel free to fill it out if you have not done so yet, or pass it along to your peers. We will re-evaluate the survey if we see a considerable increase in responses.
Now, we would like to mention resources that could help our respondents address some of their questions and comments from the feedback form in the survey.
For those of you who are just starting with midPoint, we would like to recommend taking a look at our Practical Identity Management with MidPoint book. You can also watch videos of some chapters on our YouTube channel.
Alternatively, you might consider attending one of our midPoint training courses.
In addition to our docs, we regularly publish blog posts about specific topics. Slavek Licehammer, Evolveum's engineer with over 10 years of experience in identity management, has published several blog posts specific to academia.
Additionally, you could meet Slavek and your peers from Internet2, a community of higher education, research, government entities, and cultural organizations in the USA, at their biweekly online midPoint working group.
One of the areas of interest was midPoint's connector mechanism, which allows it to communicate with a broad range of systems and applications. Thanks to our community members, midPoint users have access to a number of connectors with open-source code.
If you prefer to have a connector supported by Evolveum or our partners, please reach out to us or our partners directly to discuss it further.
Another question was aimed at out of the box reference architecture. MidPoint, as with any other IGA platform, works best if it contains all identity related data. MidPoint can be integrated with all your source systems (e.g., HR database) and target systems, both on premise and in cloud, and synchronize data based on configured rules. This architecture allows you to have a complete overview of all the identities and accounts in a single place and lets you apply policies.
At Evolveum we understand that increasingly, universities want to give their employees and students the tools to improve their user experience and reduce costs by giving them the option to manage their identities by themselves. Therefore, we would like to focus more on self-service components this year. However, midPoint already has some functionalities that could be helpful. For example, you could check out password reset configuration.
This year, we are also focusing on simplifying initial midPoint adoption. We plan to prepare a methodology covering best practices in connecting resources to midPoint and configuring synchronizations and provisioning. This will most likely lead to identifying possible improvements in the midPoint GUI, which will consequently be implemented. The methodology and GUI improvements should make the first steps with midPoint easier and less prone to errors.
MidPoint scalability is often a concern. To address it, we completed a midScale project, which has significantly improved the overall midPoint performance. For speeding up difficult individual operations, the Parallelized background tasks feature can be used.
For those of you who would like to compare midPoint to commercial products, we have created an IGA Capabilities Summary to assist you with your evaluation. Moreover, hyperlinks on that webpage will take you to specific features, for example, access certification. Alternatively, you can find more about specific features in the search bar.
We hope these resources have been helpful. We are constantly working on expanding and improving our documentation. If you are interested in a specific topic, please know you have the option to activate an Academic Subscription. In addition to product bug fixing, this subscription includes bonus services such as adding new documentation, asking questions, providing samples, developing new features, and much more. Feel free to reach out to our sales team or our official partners to find out more.