Not much time has passed since our previous holiday season gift, yet we cannot wait to share another one with you. We are releasing production-quality MidPoint Studio, the official integrated development environment (IDE) for midPoint! It is available for download here.
For those who are not familiar with this project of ours, MidPoint Studio is an integrated development environment designed to develop solutions based on midPoint. Its primary purpose is to support process of creating, developing and maintaining midPoint configurations. MidPoint Studio is built on top of open source IntelliJ platform that is the foundation of IntelliJ IDEA, a well-known IDE for Java developers. The plan is to maintain and officially support the Studio starting with this release.
This MidPoint Studio release brings:
Browse/Upload with raw options for both operations
Properties can be used to replace parts of xml. Properties can also be stored encrypted in keepass2 file within project
XML tags autocompletion, links to documentation
Groovy syntax highlighting and groovy code completion
Groovy code common variables injection
Object diff with option to ignore some parts of xml (metadata, id attributes, etc.)
Simple OID generator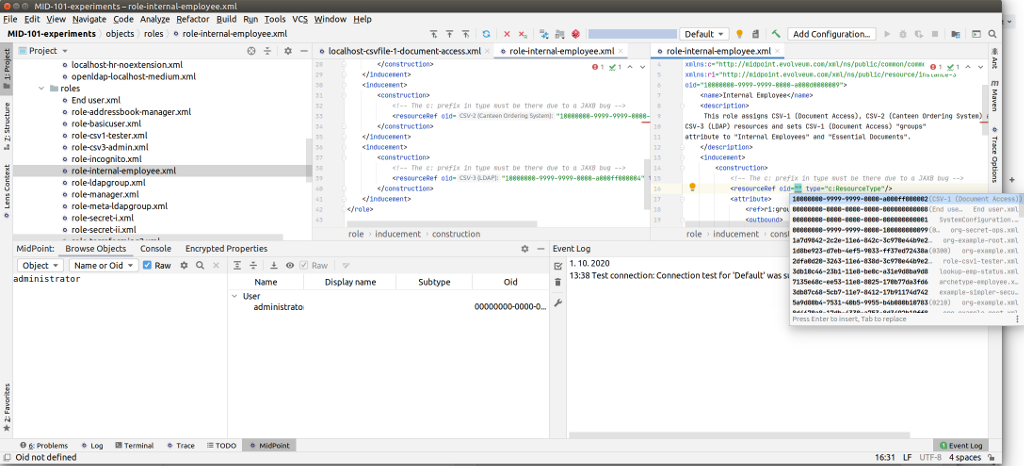 That's it! We have reached the bottom of the gift bag. Or not? Stay tuned and find out!