The Evolveum team, Igor Farinic (CEO), Katarina Bolemant (Development Team Leader), Anna Ogurekova (Sales, Marketing and Partnerships Team Leader),  Slavek Licehammer (Identity Governance Strategist), Viliam Repan (Senior Java Developer), Simona Buckova Simkova (Sales and Partnerships Representative), and Veronika Kolpascikova (Marketing Specialist), went to the Berlin conference full of excitement. As the only exhibitor with a fully OSS product, we were curious to find out what the industry thinks about midPoint and including the OSS IGA platform in their infrastructure.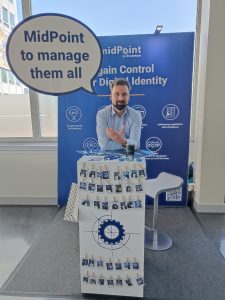 The conference started on Tuesday, and after registration we had the opportunity to check out our booth and prepare all the materials. We wanted everyone who stopped by our booth to enjoy themselves, and apart from the possibility to have a technical discussion, we were ready with engaging activities anyone could take part in.
We arranged a raffle for a chance to win a Darth Vader Helmet Lego set. Many Star Wars and Lego fans participated, and on Thursday afternoon we announced one lucky winner who left the conference with the prize in her arms.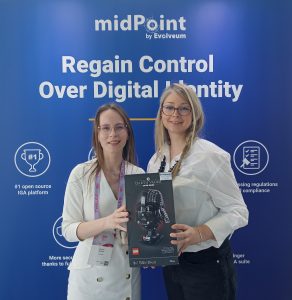 However, we wanted to make sure everyone who stopped by our booth left with a little something to remember us by. We created speech bubbles with plays on words every movie geek could appreciate. People could choose their favorite bubble, and after taking a picture digitally, we also took some on instant cameras so we could gift participants Polaroid pictures.
Katarina Bolemant, Evolveum Development Team Leader, took the stage on Wednesday afternoon to speak about the simulations feature in the midPoint 4.7 release. Her session, Better Safe than Sorry, attracted a full capacity room of curious organizations who wanted to find out more about how they can predict the future with midPoint.
Our technical team was ready to show a midPoint demo at our booth, and many people took advantage of learning about the intricacies of the newest midPoint 4.7 release this way. Keep an eye out for another blog from Evolveum about interesting discussions and findings from our demo meetings, attending speeches, and other technical talks!
We were thrilled to have strong women representation at the EIC. We were particularly excited to participate in the Women in Identity session. It provided us with a valuable opportunity to connect with other women in the IT industry, exchange insights, engage in meaningful discussions, and build new connections.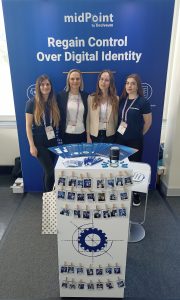 KuppingerCole, the conference organizer, arranged a couple of networking events our team could take part in. On Tuesday night, we went on a River Spree Cruise, where we got a chance to interact with other attendees while enjoying the view of Berlin's most important landmarks such as the Reichstag building and Berlin Cathedral. On Wednesday night, there was an awards ceremony followed by a reception. Our team got to enjoy networking and discussing identity topics with other guests. And lastly, on Thursday morning we joined a morning run around the city center. As you can see, we wanted to make the most out of every minute of the conference experience!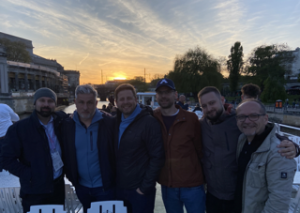 We were pleased that 8 Evolveum partner companies from all around the world (Japan, USA, Argentina, and countries from across Europe) attended the EIC in person. Our partners are an integral part of midPoint's success, and we appreciated their support throughout the event. We organized a partner dinner on Thursday night where everyone had the opportunity to share their midPoint experiences and form new alliances.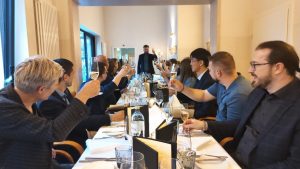 The conference ended on Friday afternoon, and the whole team was exhausted. However, at the same time, it was the first time we had been to Berlin and we wanted to explore it! We stayed over the weekend and visited the Reichstag building, the Victory Column, the Berlin Wall, the Berlin Gate, and ate at local restaurants.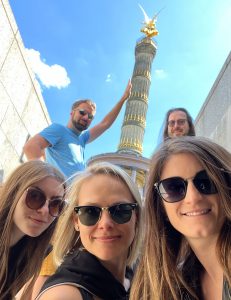 All in all, this was a fantastic experience where we got to interact with people who have been supporting midPoint for years as well as the ones who were just hearing about it for the first time. We left Berlin feeling satisfied having made new memories and connections and knowing that we have raised awareness about midPoint even more.